2020/06/10
(Some stream of conciousness discussion from Discord)
(Slight background: Using a Dell T310 server as a testbed machine. Already have pfSense installed on SATA-A & Linx Mint 19.3 on SATA-B. Attempting to add Windows 10 on SATA-C.)
Tinker (Today at 21:16)
So… Just setting up a thumbdrive for the install required booting my Windblows laptop & waiting over an hour so far…
Start to finish with a blank thumbdrive & no ISO to work from takes less than half an hour for Mint… regardless of OS on the machine you use…
ok… so it says "media is ready"
Then makes me wait further…
Now we see if it'll boot & install…
aaannnddd… Now to manually enter a bunch of arbitrary digits…
& Windblows says an unformatted 500GB drive doesn't have sufficient space to install…
TheGuruOfNothing (Today at 21:36)
Lol
Which is totally wrong
Tinker (Today at 21:37)
Starting over with the other 2 drives completely disconnected…
oh yah… Keyboard only is not acceptable while installing Windblows…
well… goes further if there's only one drive in the machine…
(probably won't boot with the other drives reconnected of course…
woo hoo… installing "features"
(fuck xbox integration & candy fucking crush…)
little twirly balls thing is annoying…
So far… Win10 install is a 2 beer process…
"Getting ready" my hairy ass…
Oh… Look… Rebooting AGAIN.
"Just a moment…"
Define a "moment" please…
Definition of moment from Dictionary.com, the world's leading online source for English definitions, pronunciations, word origins, idioms, Word of the Day, and more.
Yo… MS… Don't think you've quite grasped the definition of the word…
OI… ain't no microphone… speech recognition ain't gonna work even if you did it right…
No… Fuck you… You don't need my location…
My device weighs 30 kg… I know exactly where it is… I'll find it myself.
Even "Basic" diagnostic data is excessive… die in a fire.
Fuck you. I have no interest in helping you to recognise my "Inking & Typing" style.
Fuck you with a white hot steel bar! I don't want fucking personalized advertisements inside a fucking product I've been overcharged for in the first place. Fuck you & ALL of your ads.
Again… Fuck you and your ads… If my "Apps" are sending telemetry to customise ades, it's time to remove them from my computer.
I understand that the number of ads won't change. I also understand that goddamned number should be ZERO!
Fuck you hard! No fucking way I'm giving you my mobile phone number. Just fucking NO!
WTF? Onedrive backups whether I want them or not???
TheGuruOfNothing (Today at 22:13)

Tinker (Today at 22:14)
Geezus H. Christ! Office 365 is a fucking Joke!
Oh Christ!!! Cortana??? NO! FUCKING NO!
"Hi" to you too… Gonna give me back my computer soon?
Nope
TheGuruOfNothing (Today at 22:15)
Every part of windows has become google. Overpriced, spying on you, software as a service, bloatware out the ass, stupidly large stuff that is ALWAYS vulnerable to viruses… did I mention costly?
Tinker (Today at 22:15)
"This might take several minutes"…
TheGuruOfNothing (Today at 22:15)
I think I am gonna change mom and dads laptop to Mint
Tinker (Today at 22:16)
Yah know… I started this install at 2030…
it's 2216…
TheGuruOfNothing (Today at 22:16)
And it won't be done until the year 2030
Tinker (Today at 22:16)
I'm halfway through beer #3
Redmond is too far a drive & I'd probably not be allowed across the border with 3000 rounds of 7.62…
Holy Shit…
"Welcome To Fucking Windows"!!!
With an immediate advertisement for the App Store…
How in fuck is waiting for Windblows to find a compatible video driver (For one of the oldest GPUs still in common use…) gonna lower battery life on this AC powered machine???
"By activating Windows, you get the best experience, free from interruptions."

Now… Fresh install using their fucking media creation tool…
Time to "Check for updates"…
Place yer bets…
Holy MotherFuck!!!
they actually don't have any updates for this brand-new install…
I'm deeply confused…
Just a red one short of 2 hours of dumb…
OTOH… about to reconnect the other 2 drives & see what happens…
pfSense can still boot on SATA-A
Where the hell did SATA-B go???
MotherFucker!!! Fucking Windblows installed killed SATA-B boot sector!
Damnit!!!

Aaannnddd… Windblows won't boot…
FUCK WINDOWS!
Tinker (Today at 22:47)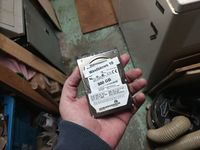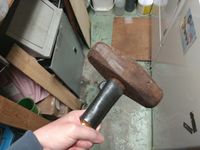 TheGuruOfNothingToday at 22:48
No bullet hole?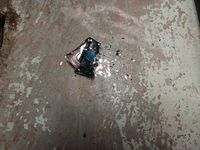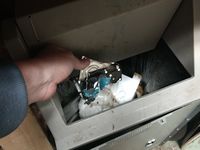 Tinker (Today at 22:48)
There… Fixed it.
TheGuruOfNothing (Today at 22:48)
Poor drive didnt know what hit it. Got windows all over its face and then got hit by a train
Tinker (Today at 22:49)
Might been a little annoyed…
That 10 lb hammer is quite satisfying.