So…
After giving up on my 2010 DGC (Yes. It finally realized it was a Dodge.)
I went hunting for a suitable replacement.
Had a pretty good idea what I wanted.
Van, SUV, Pickup with a topper. In that order.
Less complicated to troubleshoot than the Dodge.
Gotta have roofracks & a trailer hitch already installed.
4×4 would make me happy.
Oh yeah… Not another damned Dodge. (Have I ever publicly mentioned my intense dislike of Dodge? Probably… A few times…)
Jumped on Kajiji & started shopping. Specified $1,000-$2,000. Lotsa junk available. Changed to $2,000-$3000. Changed to $2,000-$4,000. Some actual cars started showing. (Why do used car lots advertise cars "as is"? What's the point?)
Apparently, All used cars have spntaneously been converted to pure platinum recently.
Anywho…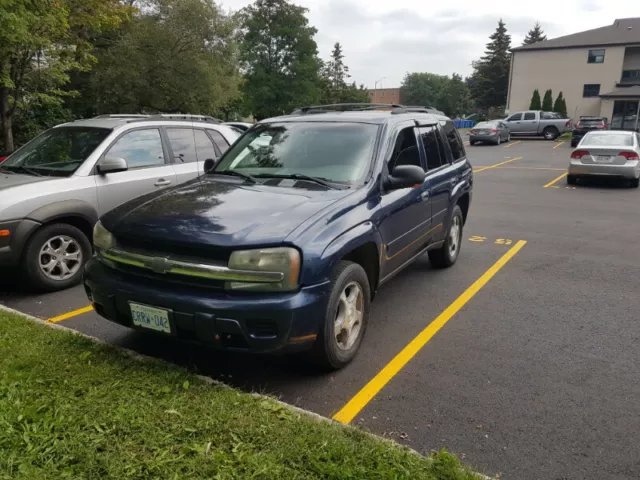 Found a 2007 Chebby Trailblazer.
First time listed: $2,600 as is or $3,100 certified.
Thought about taking a look, but the listing was taken down before I got the time.
A few days later, Same car gets relisted for $3,000 certified.
Made the call & drove an hour to take a look.
Externally, it looks reasonable. No rust, not too many dents.
Mirrors have both been snapped & badly repaired. Both bumper covers are coming apart to some extent.
Tires are shot & alloy rims are nasty. But, there's a second set of wheels in the back & they do look better.
So far, no deal breaking issues visible.
On to the interior…
O…M…G…
This truck has been molested.
Both front seats have burn holes ALL OVER them.
The centre console has been beaten apart. (& the cup holder inserts are complely missing.)
The headliner was torn apart in some sort of failed attempt to fix the front reading light switch.
The front door panels have been reinstalled wrong.
One of the vents is totally out of whack.
Passenger front seat… Side plastic has been smashed off.
I have no desire at all to know what is soaked/ground into the carpets… EVER!
Still… No deal breakers yet.
Test drive time!
Starts like a dream. Seems to be running smoothly. (But the exhaust is a bit loud… meh…)
Seller wanted to drive. WTF dude?
Stuck him in the passenger seat. Quickly realized he was even more annoying in that position.
Discovered the shifter is sloppy as hell. hhhmmm…
Got her rolling & drove around a bit.
Transmission seems to be slipping a bit, but not too badly. Probably needs a fluid check. Maybe a flush.
Seems to handle well. Alignment seems good. Brakes are good. Lotsa power.
Little bit of whining noise. Maybe power steering pump, maybe not.
Comfy truck… Beats the heck out of the dead Dodge.
Stereo is toast… 🙁
A/C definitely needs a recharge.
Still… No deal breakers yet.
Bullet Biting…
Being late in the day on a Saturday, a little difficult to get hands on the cash to buy it.
But did have $500 on hand. So offered a down payment. He accepted it.
Scrounged up the rest overnight by calling in favours.
Drove out on Sunday with plates to get her home.
He was selling it for his uncle, so had to wait for uncle to figure out how to get to the parking lot to do paperwork. But, eventually, I became the proud new owner.
Uneventful trip aside from the weather suddenly turning ugly. Discovered this truck has a feature I haven't had in a while… WORKING rear wiper! Holy crap!
Only potential concern during the trip was the TPMS light coming on. Since it was pouring down rain & the truck felt like it was ok, decided to ignore that until I got home. (Turned out RF tire was low, but not desparately so…)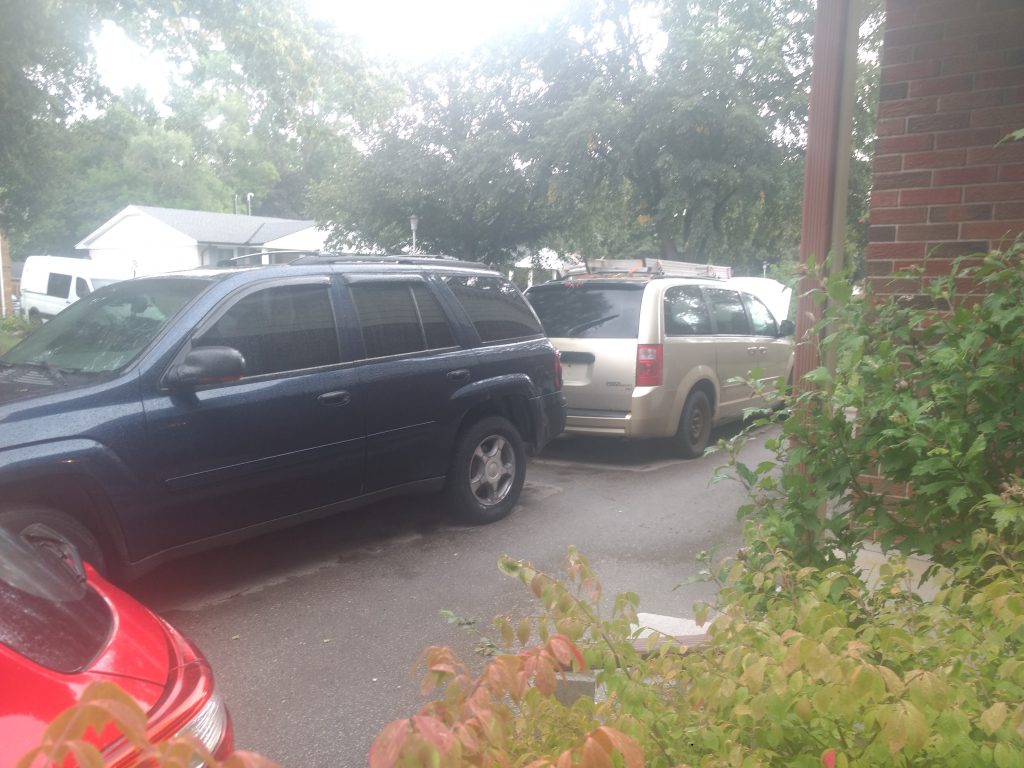 Stay tuned & I might even write up a part 2